Healing: My Journey of Self-Discovery & Forgiveness
Updated: Jan 2
Healing: My Journey of
Self-Discovery & Forgiveness
Vulnerability time!
Just a little bit.
I realized when you step onto your life's destined path, materializing your purpose, its a new energy to be had.
Listen to Solange's, "We Deal With The Freak'n" when the audio says, "Do you realize how magnificent you are?"
You can't lose sight of it once you are clear on it.
Everything you do from that moment on should reflect what enhances it from your core values which includes: consistently reflecting and refining your truths based on your personal experiences & lifestyle changes ie: relocation, new employment, marriage, pregnancy /new addition to your family (new baby/child).
"We longed to be rescued because we did not know how to save ourselves"
- "All About Love" by bell hooks
In this season of my life where I have been given the opportunity to dramatically change my life, I worked on myself which in turn allowed me to collect enough courage to leave a job that was unfulfilling and drained my soul quite literally. I can remember myself saying how I usually have a plan before I leave a job, how I wouldn't just up and leave. I had an internal panic button being pushed.
Smashed, actually like when I was younger playing Tekken on Playstation 2 and didn't know the special moves to defeat my opponent. I'd smash the buttons quickly and as hard as I could.
I've felt this way before. I think it's an internal scab being scratched/ picked at as I leapt into the unknown knowing deep down that I'd eventually find a safe landing. Emphasis on eventually.
Speaking of safe landing, I had a quite literal experience of having to find a safe landing, find my footing.
My husband and I went hiking a back in July. I've been on hiking trails before, but when he showed me the trail on a hiking location app, it said it was "hard" and I started to raise my eyebrows.
On the list of locations was a place we had visited back when I was in college on a field trip for my Geology class. That trail was considered "moderate" so my husband was adamant on us being able to do the hard trail. He was excited and I love when he gets excited about things and he wasn't really backing down so, I obliged.
It was hard. It was strenuous. We were out there from 8AM til 2:30PM. We ran out of water. We took the wrong trail.
We were TIRED.
Rewind: We were doing pretty well for the most part, but little ol' me at 5'4" had to do some rock scrambling at different spots. We took breaks, drank water, ate grapes, people passed us a few times. We were almost at the end of our one-way trail when I decided we shouldn't continue since we were low on water and still had another dip and mountain to climb up and come back down. So we headed back after having some lunch. I remembered we had saw a sign on the path we were on that mentioned the color path we originally started on.
I thought, "Great! We'll be able to hop on the trail and get back to our car in less time."
I thought.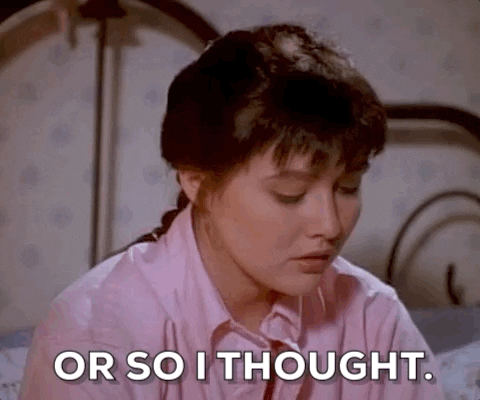 We went down the path to have no choice but to still hike up another mountain where we really should not have gone up it on that particular side since it had more pebbles and loose rocks and less trees to step on the roots for stable footing.
No lie, I really feel like this hike was a whole metaphor for my last year and probably for the rest of this year.
Trust. Have Faith. Surrender.
That's all I could do.
I had to trust that I would make it up this steep hill to the top of the mountain and my legs wouldn't give up on me. I had to trust that I would be fine sucking on the grapes I packed until we made it back to the road and could get some water. I had to have faith that I would not fall and injure myself on the way down this steep mountain where the roots of trees I used earlier in my hike were almost non-existent. I had to surrender to my higher perspective by having positive self-talk, concentrating to my breathe and pushing through with the end goal in mind: chugging three bottles of water in a row once I got down this damn mountain.
I do wish when I had reached the top of that particular mountain, Sugarloaf Mountain, that I would have had a tiny bit of energy to take a picture because it was a beautiful view, but it also scared me because my legs were starting to wobble a bit from the height and lack of trees to reach for.
My take-away here is this: My husband told me later that night that he thought I was going to give up on the mountain and I replied,
"How? Even if I wanted to, I still had to climb it."
And I did feel frustrated and thought of "giving up" but that wasn't even an option. I was tired so I started to take longer breaks. We learned lessons for sure from that hike and we'll be better prepared when we go hiking again.
This experience was a lovely physical reminder that I can do things I didn't think I could and discernment of when to push on and when to rest. Though it may not be clear from this experience, the thoughts that raced in my head allowed me time to practice forgiving myself for mistakes and being proud of what my body has and continues to be able to handle with grace.
From that day on through the Summer, I have been tested on my mental endurance and strength, forced to identify what it is what I really want in my life and what is actually important to me, what does success look like for me, not what society claims to be success. There's an astrological event called a Saturn Return, if you're into astrology like me, and that's basically my life right now among other intense shifts.
All in the name of growth, transformation and maturity.
A rite of passage.
I thought I'd share this with you because I've received DM's on Instagram saying thank you for sharing certain posts and "wow, I resonated with that!".
The main reason I'm sharing inspiration, motivation is because a lot of times I am needing that myself or it was something I could've used when I was going through a certain situation. We are all trying to figure things out as we go so why not help someone else who could use a few words of encouragement and just feel heard. I've been searching for community for a long time and by sharing I have started to build a little community. I'd love for my little community to grow and flourish on a more intimate level soon enough.
We could all use support and encouragement as we do the actual work in our individual lives.
Don't forget to join my email list if you haven't already!
I send out a general inspirational/motivational newsletter bi-weekly and a blog post update in between so you've got something new in your inbox every week on Thursdays.
I love with you all leave comments and even reply to my newsletters so please continue to do so! You can also email me directly if you want!
Follow my on IG at: sheyna_james and feel free to follow the blog's IG at: aspire.create.inspire.
Talk to you soon!