7 Gifts For The Home Goods Lover
7 Gifts For The Home Goods Lover
It's that time of year again!
Maybe you've already started your holiday gift shopping like a good noodle. Maybe you just aren't sure what to get someone.
If you know someone who is always finding a way to decorate their home, I've got a list of 7 gifts you can gift your HGTV- loving, pillow-chopping, always stylish friend or family member.
I mean, you could be that person in which I'll say: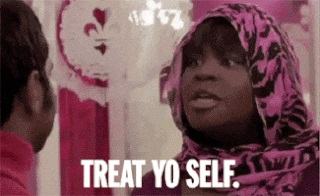 I decided to not only list the types of gifts, but even added the links to my favorite brands!
Happy Shopping!
​1. Art (custom framed for bonus points):
My favorite sources for prints are:
They all have prints that come with frames you can choose from.
Or, if you have art work or digital images you would like framed, I like these guys:
I haven't used them yet, but I have seen their work (peep their website) and It's good stuff.
My favorite artist right now is:
-JD Baez at bybaez.com
Such beautiful art of Black women and Black culture. He has original canvas art for sale along with reproduction prints.
2. On-trend decor:
I always look at these websites when specifying retail accessories:
3. A floral arrangement (with a chic vase to put it in, two-for-one!):
Honestly, Target has been surprising me with their faux flora stems. I just brought a bunch of their palm leaf stems and they are great!
Also, I have used Etsy for faux floral arrangements.
4. A cozy throw blanket (maybe even throw in a pair of fuzzy socks):
West Elm: Faux Fur Brushed Tips Throw
Another place you can check is your local Home Goods or Marshalls store!
5. Chic dining/Bar wear:
-CB2
6. Coffee table book(s):
-Kinfolk (their books and magazine issues are packed with beautiful imagery and the covers and spines of them are visually pleasing)
-The New Bohemians Handbook by Justina Blakeney
- In The Company of Women by Grace Bonney (because Bad Ass Women)
- A Man and His Watch by Mat Hranek (for the guys or watch-enthusiast) -Styled: Secrets for Arranging Rooms, from Tabletops to Bookshelves by Emily Henderson (One of my fav. interior designers since her HGTV days)
- Living with Pattern: Color, Texture, and Print at Home by Rebecca Atwood (the cover is such eye-candy! and the inside does not disappoint)
- Domino: The Book of Decorating: A Room-by-Room Guide to Creating a Home That Makes You Happy by Deborah Needleman (same as the above)
7. Throw pillows (better yet, quality pillow inserts + pillow covers):
My fav brands for throw pillows right now are:
Pillow Pia: PillowPia.com
Little Design Co.: LittleDesignCo.com
Modish Pillows: ModishDecorPillows.com (Black woman owned)
STUD Pillows: STUDPillows.com (Black woman owned)
Stitched By Grace: Shopstitched.coteriebrooklyn.com
BONUS:
If they are having trouble with a particular part of their home, why not gift them a design package with an interior designer? ;]
I'm just saying...
I'm giving $100 off from Black Friday all the way til Cyber Monday for any of my eDesign packages and offering complimentary virtual consultations all next week (Sunday, November 25 - Saturday December 1st)!
Be sure to book your spot while time allows.
Enjoy your time off with friends and family and I hope this helps you with your gift shopping!
#modern #gifts #giftguide #holidays #holidayseason #family #homedecor #decoration #inspiration #design