Finding My Calling: A Love Story
My journey into design started with the love of art. The art of drawing to be more specific.
I have loved drawing since I could hold a crayon. I have loved design since I was building with Legos and playing with my Barbie dolls in my blanket tent. Growing up in the Bronx, New York, I didn't really understand, at first, the complexity of architecture and design until I was old enough to realize that those skyscrapers in the city, Manhattan, didn't just pop-up there; people designed them and people built them.
I remember my classmates would often ask me to draw stuff for them and would acknowledge and praise me for my talent. Drawing was what I was known for. During my last year of eighth grade, I had the opportunity to choose a school to apply to. Naturally, I looked at specialized art high schools such as Fiorello H. LaGuardia High School of Music & Art and Performing Arts, the High School of Art and Design, and the High School of Fashion Industries, the school I was accepted to attend. I prepared my portfolio, went to take the entry exams, and waited to hear back. When I saw on the bottom of my report card that I would be attending the High School of Fashion Industries, I was over the moon. I couldn't wait to start high school.
While attending Fashion, I met my first art major teacher, Dr. A. Sieunarine, who is truly inspiring. She is a woman of color from Trinidad, she made sure you called her "Doctor Sieunarine", as well she should; she earned that title. I didn't like her very much at first ('cause teenager) as did others in my class, but she meant well. She knew my potential and she pushed me and my classmates to do better and work harder to reach our fullest potential. She challenged us to see things differently, to really look at the details when drawing a still-life, capture the uniqueness of the objects. I remember the time she brought in a bike she found on the street with one wheel. She had all of us take a seat around the bike and study the bike. She gave us a 5" x 7" piece of Bristol paper to zoom in and focus on one aspect of the bike versus sketching the entire bike. Though I liked art, I didn't really like school at the time so, there were days I didn't show up Freshman and Sophomore year. I was behind on classwork and behind on homework. I'm not proud of this, but it's the truth.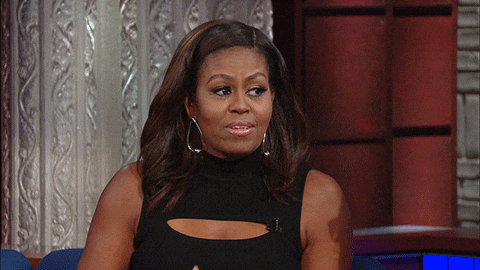 She didn't give up on me when I failed to appear in school. She always tried to get me motivated again, to come to class and complete my assignments. I am forever grateful to her. I didn't realize then that she would shape how I analyze, draw, and paint. I owe her a visit one of these days.
I originally wanted to study architecture, but decided to major in interior design when I read online that it would allow me to be creative and be less technical. This is a lie, but I didn't know that at the time. I applied to universities in both fields and was accepted to only one of the schools, I can thank my grades from Freshman and Sophomore year for that. I was accepted to attend the University of Bridgeport.
The only time I ever learned about any person of color was if we were talking about Frida Kahlo or Salvador Dali briefly after we'd talk and examine artists like, Vincent van Gogh, Georgia O'Keefe, Jackson Pollack, Andy Warhol, etc. Not to say these artists aren't geniuses in their own right, but I'm there are others I haven't had the chance to learn about. Before I knew who Zaha Hadid was, I knew who Frank Lloyd Wright and LeCorbusier were because they were in my lectures speaking of their outstanding additions to the design world. I only know about Zaha and her work because I was asked to choose from a list of architects to write about in my independent study paper during my senior year. I had to do my own research to get to know how much of a bad-ass she was, how innovative and ground-breaking she was with the designs she created during her career in such a male dominated industry. I mean, look at her work:
After graduating from college, I wondered if I should have majored in something else. Maybe I should have just went into graphic design since there are more jobs popping up on Craig's List and Indeed than there are jobs for interior design. Many internships were and still are unpaid. That in and of itself is a privilege I didn't have because I lived on my own, was working borderline full-time at the time, and didn't having a reliable means of transportation at the time. The bus system up here is ridiculous and ride-share companies weren't widely known yet in Connecticut in 2012 or 2013.
I look back and wish my university had a mentorship program. There was something similar with an affiliated organization, but when it was being mentioned in class, I didn't have enough time to request the day off at work since it was the next week and I'd need at least 2 weeks ahead of time to request off.
It seems there aren't any practicing interior designers in Southern Connecticut (or Connecticut in general) that are Black or non-Black people of color. I searched on search engines, "interior designers" couldn't find a Black interior designer or any Person of Color. Plenty of the designers here are talented, but I desired to meet someone from a similar background and upbringing as mine to truly relate to. I'm an inner city kid whose grown up and wants to know I'm not alone, someone else has been down this road before me and is willing to share there experiences and knowledge with people like me.
Almost a year ago, I started over. I cut my dead-ends, figuratively and physically. I didn't realize that I was preparing for this year, my year of opportunity. I'm at the stage of life where I'm going through a sort of re-birth. I've found myself to be impatient and excited at the same time most days. Also, I'm tired, but its a different kind of tired. I used to be tired because the work I used to do was draining and I was just annoyed because I felt I wasn't going anywhere. I felt stuck. Now, I feel tired, but I feel energized, too.
I'm literally building from the ground upward. This is the life of an employed entrepreneur. I know success will taste that much sweeter seeing and knowing where I started. I know my day is coming. I can feel it in my bones as my family cheers me on. I can feel it as my ancestors walk with me and guide me in the direction I should go. There may have been times I could have reached my goal faster, but I understand and am thankful for the growth by having to take my time.